My friend in Udupi (who is an amazing cook) called me and said she's got a few large squids/bandaas in Konkani/cuttlefish. The cuttlefish was indeed quite large may be weighing about a Kilogram each!
I pondered for a while what dish to cook. There are many recipes like squid chilly which tastes good, then dry fry or roast. But then I decided to make squid masala that I had learnt from my friend but not tried yet.
The squid I had is cuttlefish which is similar to squid. And squid/cuttlefish/small octopus can be cooked in the same way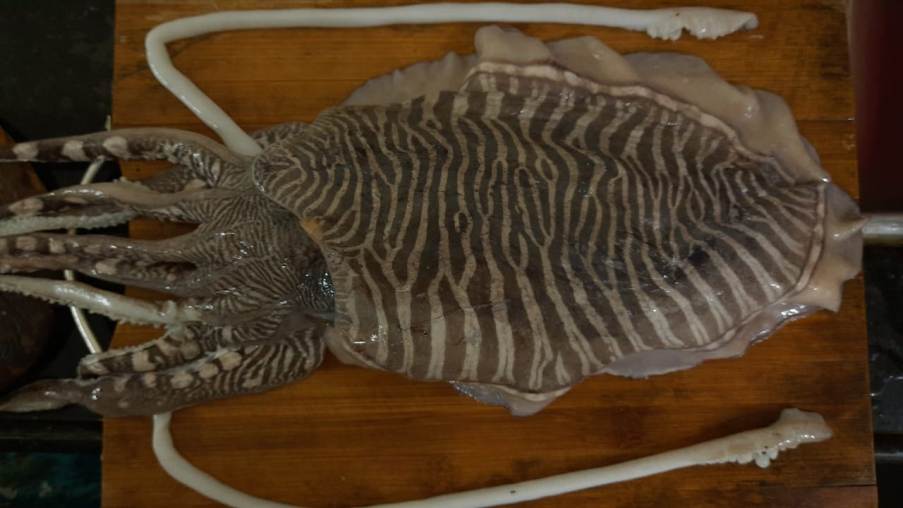 Squid masala / Bandaas masala – squid cooked in a thick masala.
Since the cuttlefish I had was quite large and thick I had to make small square pieces. For small squids, you can cut into rings or stripes after cleaning it.
Read all delicious fish recipes on Spices and Aromas
Join us on our Facebook Group Spices & Aromas

Squid masala / Bandaas masala
Course: Main
Cuisine: Indian
Difficulty: Medium
Ingredients
500 gms squid/cuttlefish

For grinding

1/2 cup Shallots/sambar onion or 2 big onions

6-7 cloves garlic

1 inch Ginger

For the Masala

4 Tbsp oil

4 -5 springs curry leaves

2 green chillies

2 tomatoes or puree

2 tbsp Kashmiri chilli powder

1 tbsp coriander powder

1 tsp turmeric powder

1 tsp Black pepper powdered

2 tsp fennel seeds powdered

2 tsp garam masala powder

1 lemon juice

2 tbsp chopped coriander leaves

Salt to taste
Directions
Grind the ingredients mentioned 'for grinding' to a fine paste
In a frying pan heat oil.
Add the ground paste and fry with curry leaves and green chillies
Add the tomatoes and fry till the tomatoes turn soft.
Add the chilli powder, coriander powder and turmeric powder and fry well for about a minute.
Now add the squid and cook for 4 to 5 minutes.
Add pepper powder, fennel seed powder and garam masala powder and cook for 4 to 5 minutes.
add lemon juice and salt mix well.
add chopped coriander leaves.