Egg drop chicken soup is a healthy and tasty soup that I often make it at home and my son loves it.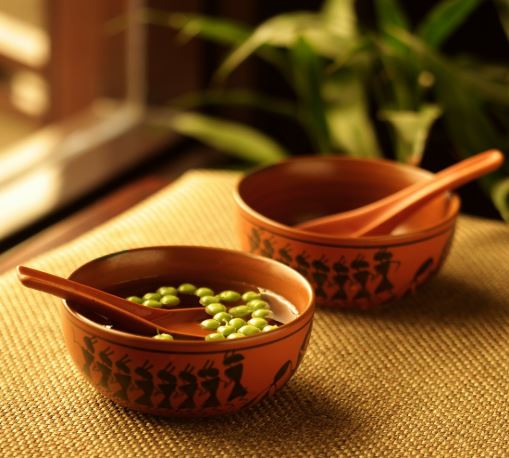 Beautiful Soup Bowls for your Kitchen…
When we talk about soups, there are varieties of instant soup mix available in the market and they make our job easy and quick. But we never know about the hidden ingredients and particularly preservatives used in these to increase the shelf life. Once in a while, everything is ok but when consumed regularly it affects our well being.
Another thing about the packed veg and non-veg instant cubes we use. This is nothing but veg and nonveg stock. You can prepare stock at home by boiling meat and vegetables. I will make a separate post on that.
Egg Drop Chicken Soup Recipe
This particular recipe is about egg drop soup and the major ingredients are egg and spring onion. I have added 2 to 3 pieces of chicken to alternate the soup cubes. So you can use soup cubes instead of chicken. I have not used a lot of ingredients since I wanted to retain the flavour of spring onions alone. This soup is good for children as it is rich in protein and calcium which helps growing kids.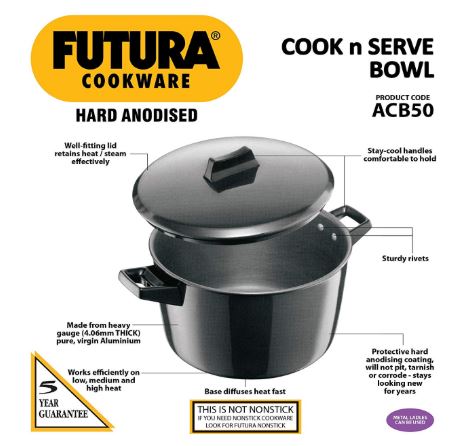 Hawkins Futura Hard Anodised Cook-n-Serve Bowl, 5 Litres, Black
Read all the healthy soups recipes here
Join us on our Facebook Group Spices & Aromas
Egg Drop Chicken Soup – A Simple and Nutritious Soup Recipe
Course: Soups
Cuisine: Indian
Difficulty: Easy
Egg drop chicken soup is a healthy and tasty soup which you can make at home easily.
Ingredients
1 Bunch spring onions

4 Green chillies

4 Pieces of Chicken

1 Small piece of ginger

7 Garlic cloves

1/2 Lemon

2 Eggs

1/2 tsp Pepper powder.

1 Tbsp Ghee

2 Tbsp Oil

Small piece of cinnamon

3 Cloves
Directions
Heat oil in a vessel and fry onions, garlic, ginger and green chillies.
When the onions become soft add chicken and cook for 7 whistles
Take out the chicken pieces and once they come to room temperature, shred it and add to the soup. Boil it well.
Now it's time to drop the egg. Beat the eggs in a separate vessel
As it is boiling slowly drop the egg in one hand and stir with the spoon in another hand until you see the egg gets crumbled.
Add salt and pepper powder. Squeeze the half lemon.
Serve hot Egg Drop Chicken Soup