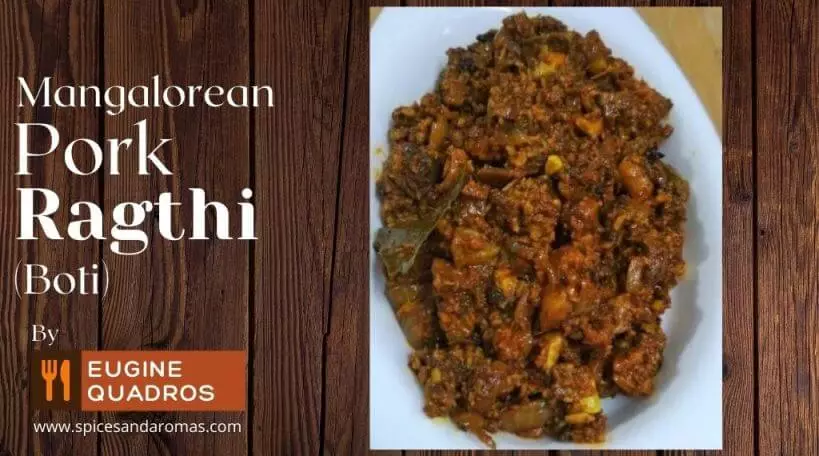 Mangalorean Pork Ragthi or pork boti is prepared with the spare parts of pork. This spicy delicacy is a perfect …
In this Mangalorean fish curry recipe, fish curry is prepared with coconut milk. This curry is suitable for some varieties …
In this Pathrode with Mutton Curry recipe Pathrodes are cooked in mutton curry. Pathrode is made with colocasia leaves and …
A delicious Mutton Mushroom Kurma recipe can be accomplished with rotis & bread.
This Chicken Indad Recipe is a traditional Mangalorean recipe that tastes hot-tangy-sweet. Quite easy to prepare and has a unique …
Raw Jackfruit Sukka with Black Chana is a traditional Mangalorean dish. here we are using a tender jackfruit. This is …
In this tender jackfruit palya recipe, tender jackfruit is cooked with coconut, red chillies, jaggery, mustard and tamarind. This dish …
Mangalorean Pork Indad is a mild sweet-sour pork dish. It is a popular dish in most of the Mangalorean Catholics …
Jackfruit Patholi is jackfruit rice and coconut batter steamed, folded in a Teak-tree leaf which gives a unique aroma and …
Ambe Upkari is a Konkani style mango curry that is sweet and tangy curry tastes so good with white rice.
Coconut Roce Kurma is a delicious, traditional kurma where the vegetables are cooked in coconut milk. It's Tasty, healthy and …
Kundapurs most delicious Kundapur Chicken Curry using Rovena's Chicken Sukka Masala Powder.
Methi keema recipe, is a perfect combination of methi leaves with minced meat. Mutton keema cooked with fenugreek leaves/methi brings …
Mutton Rara is a popular north Indian dish also known as Rara Gosht. This Mutton Rara Recipe is a combination …
Yam Chickpea Gassi is, Yam cooked with chickpea in a thick consistency gravy. It's a Mangalorean dish also called Kadle …