Raw Jackfruit Sukka with Black Chana | Tender Jackfruit with Chickpeas | By Eugine Quadros
Raw Jackfruit Sukka with Black Chana is a traditional Mangalorean dish. here we are using a tender jackfruit. This is prepared during January to May as Tender Jackfruit is available during this time. It's a dry dish – the masala is very flavourful and the combination of chickpeas gives a good taste to this dish.
Enjoy the dish and leave a comment…
Raw Jackfruit Sukka with Black Chana Recipe
Ingredients
1 kg of tender raw jackfruit
½ Kg Black Chana (chickpeas)
For Masala
6 Byadgi chillies
2 tbsp Coriander seeds
1 tsp Jeera
2 tsp Mustard
1 tsp Fennel seeds
½ tsp Haldi powder
2 tsp Tamarind pulp
½ tsp Methi seeds
1 tsp Ajwain
1 medium Coconut scraped
1 medium onion
5 garlic cloves.
2 tbsp Jaggery
For Thadka
1 tsp mustard seeds,
3 Byadgi chillies,
1 tbsp chana dal,
2 tsp urad dal,
Hing powder little,
Few curry leaves
Salt to taste.
Method
Clean the tender Kadgi (raw jackfruit), wash it and chop it finely.
Steam it in an idli steamer for 15 minutes. Let it cool.
Pressure cook the soaked chana and keep aside.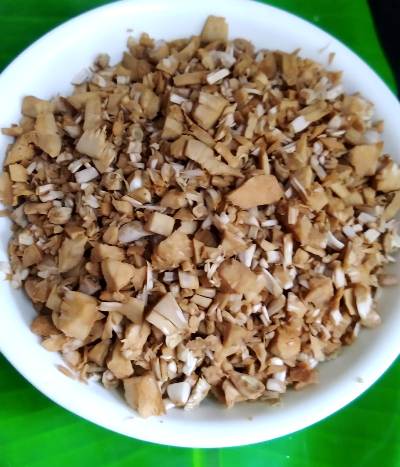 Masala
Heat a tablespoon of ghee. Add byadgi chillies, coriander seeds, methi, fry a little.
Now add jeera, fennel seeds, ajwain, fry it till Aroma. add garlic cloves and sliced onions…fry till the onions turn transparent. Off the flame. let it cool.
And grind it with Haldi and tamarind to a smooth paste.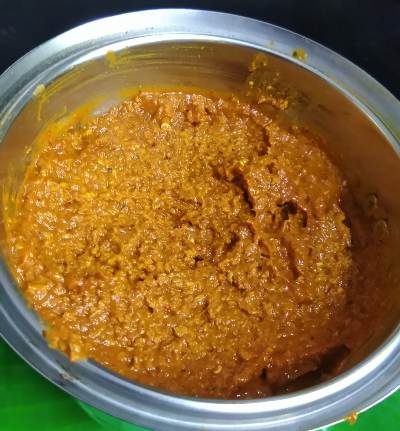 Fry the scraped coconut in the same vessel till light brown.. don't burn.
Now add the fried coconut to the above-ground masala and just grind it for one round.. so that the ground masala coats the coconut. Keep it aside.
For Tadka
Heat a large vessel add 3 tablespoons of coconut oil.
Add mustard seeds, chana dal, urad dal, byadgi chilli, fry till mustard splutter, and dal changes its colour.
Now add hing and curry leaves..( here you can take out some tadka ingredients for garnishing)
Add the ground masala and fry for a while…add jaggery, salt.
Now add steamed raw jackfruit, boiled strained chana.. don't add water…it should be dry… Close the lid and keep it on a slow flame for some time.
Mix it gently 2-3 times. Adjust salt.
Raw Jackfruit sukka with Black Chana is ready… very tasty, full of Fibres… traditional dish.
Join us on our Facebook Group Spices & Aromas