Mangalore Pork Indad is one of the most popular pork preparation without a doubt. The perfect balance of mild sweet-sour-spicy pork that goes well with sannas (idlis), appams, neer dosa, dosas literally tastes good with anything.
The great weddings of Mangalore and the grand buffets is not complete without any pork dishes. Mangalorean Pork Indad is definitely one of them.
As I started to pen down about pork indad, it just took back to those days where my grandma, mom and dad used to cook these dishes for us. There were certain dishes like Appams, sannas, shevio, Kube Mutli and many more including this Indad were considered to like a feast in the house.
---
Stewpots with lid – for perfect cooking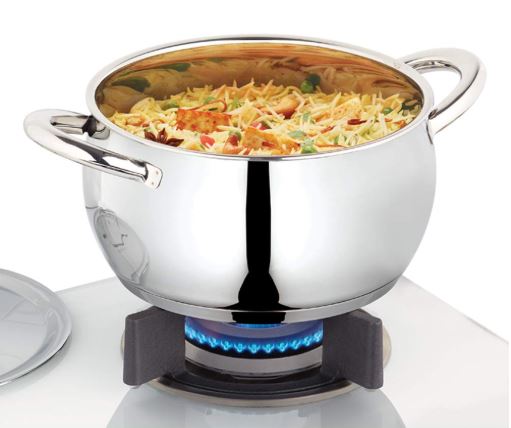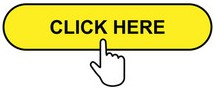 ---
They used to grind using manual grinding stone and every step was given so much care that we could feel it as we enjoyed having these dishes. They never failed in cooking.
I do agree on advancement in technology has simplified the process and these days the same can be cooked in lesser time.
This pork Indad Recipe is a Mangalorean style recipe. It is a perfect one that, I can say and I have been doing it from the past 10 years and it has not failed even a single time. Perfect measurements and out of many Mangalorean pork recipes, this pork indad Mangalorean recipe remained one of our favourites. 
In addition to the mentioned ingredients, you can also add dates or raisins. It gives a better taste to the recipe.
---
For healthy cooking – Cast iron cookware for lifetime cooking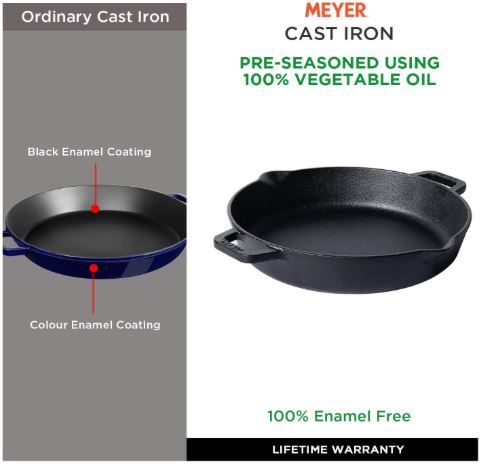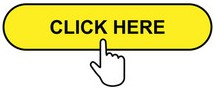 ---
Some tips to make it perfect,
The masala needs to be ground to a fine paste.
Fry the masala in Tava thoroughly
Do not fry all the meat together. Fry it in batches to ensure each piece of meat is fried well on both sides.
Adding whiskey enhances the taste.
The fried potatoes taste awesome in the masala
Join our Facebook group for more authentic Mangalorean food recipes and cooking

Mangalorean Pork Indad Recipe
Mangalorean Pork Indad Recipe
Course: Pork
Cuisine: Mangalorean
Difficulty: Medium
This Indad recipe is Mangalorean style pork Indad recipe. It's a perfect Indad recipe that balance sweet-sour and spicy. A great dish for any pork lovers.
Ingredients
1 Kg Pork

For Grinding

6 Green Chillies

10 Kashmiri chillies or Bydagi

2 Cinnamon

8 Cloves

1 whole Garlic

1 inch Ginger

1 Tbps Jeera

1/2 Tspn mustard

3 Medium onion

8 Peppercorns

2 Tbsp sugar

1 small lemon size Tamarind

1/2 Tsp Turmeric powder

3 Tbsp vinegar

1Tbsp Whisky (optional)

salt to taste

Addons

3 medium Potatoes

Oil to fry
Directions
Wash and clean the meat,
Make thin big slices of the meat.
Apply salt and turmeric and keep aside
Grind all the ingredients mentioned for Grinding in vinegar, make it a FINE paste (Very fine paste tastes good for this recipe).
Wash the mixer with diluted vinegar and remove all masala from the grinding jar.
Add 2 tbsp of oil on tava and fry the Pork pieces on both sides. Do not over fry the meat else meat will get hard. Also do not put all the meat at once and fry. Ensure each piece is fried well.
During frying, the meat releases fat do not discard it as in the next step the masala is fried in the same oil.
Take out the fried meat.
Now the most important part, fry the ground masala in the same tava and oil where the pork is fried. Thoroughly fry the masala for about 10 mins.
Once the masala is well fried add fried meat. Mix it well. Add the water collected after grinding and cook in slow flame.
Once done off the flame. Do not make the masala thin. It must be of thick consistency.
Thinly slice the potatoes and fry it in little oil. Mix this fried potatoes with the cooked pork vindaloo and cover it and wait for some time.
Now pork Indad is ready to serve.
The Indad tastes great as it matures ie on the next day.
You can also try this recipe with chicken or any other meat.
Join us on our Facebook Group Spices & Aromas