I have already posted crab curry recipe a few weeks back. In this recipe, I have added raw mangoes and few prawns as adding few prawns to the curry enhance the taste.
I got some freshwater crabs or river crabs. The crab's shell is quite hard and hence they are also called stone crabs. These are tastier and fleshy in comparison to sea crabs. Ideal to make curry.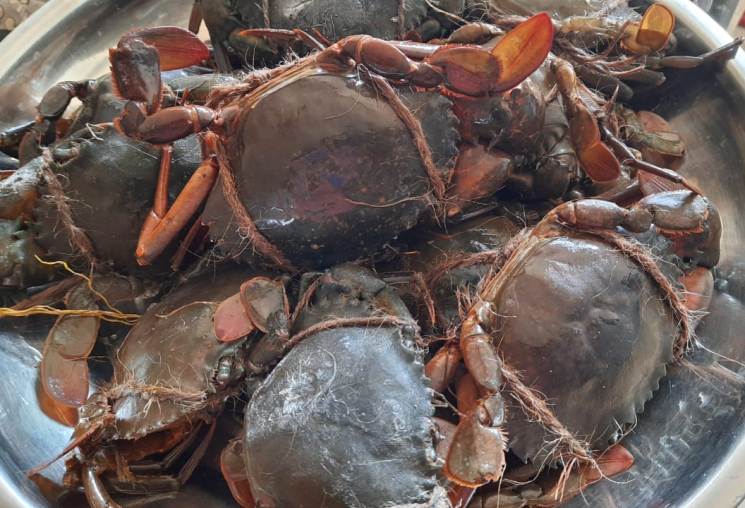 Crab Curry with raw mangoes
Usually, when we cook crabs, I mean crab curry, we sometimes pair it with Malabar spinach, prawns. since we are in the Mango season I can never miss adding this. The raw mangoes give a slightly tangy taste. I am sure whoever reads this post is going to miss your hometown if you are from the coastal side. However, if you are a passionate cook, you will find ways to get all the ingredients. I hope you will all enjoy cooking this.
Read all the fish recipes on Spices & Aromas
Join us on our Facebook Group Spices & Aromas

Crab Curry with Raw Mangoes
Course: Curry
Cuisine: mangalorean
Difficulty: Medium
Crab Curry with raw mangoes, here few slices of raw mangoes are added to the curry which gives tangy taste to the curry.
Ingredients
8 Crabs

5-6 prawns

2 small raw mangoes

For Grinding

1 small cup grated Coconut

3 tsp Coriander seeds

Pinch of Jeera/Cumin seeds

8 to 10 Red chilli ( I have taken Bydagi, Kashmiri and Mangalore chilli)

1/2 big onion

4 to 5 Garlic pods

1/2 tsp Turmeric

Other Ingredients

Vinegar as per taste

Half onion (seasoning)

Salt as per taste
Directions
Clean the crab thoroughly. Remove the upper part of the shell and clean it.
Peel the outer skin of raw mangoes and cut it into slices.
Grind the ingredients mentioned 'for masala' to a fine paste.
In a vessel heat oil. when the oil is heated, add chopped half onion and fry it till turns light brown.
Now add the ground masala paste and vinegar. Add enough water and mix the curry. The curry should be a medium-thick consistency.
Add salt and mix well.
Add the sliced raw mangoes to the curry and boil it.
When the curry starts to boil add the cleaned prawns and crabs. Adding prawns in crab curry enhances the taste.
Cook for 2 minutes, OFF the flame and keep closed for some time.