Popularly known as sambrani gadde in Kannada, kook in Konkani, Koorka in Malayalam, sirukizhangu in Tamil. This tuber is available in the winter season, from October until the end of February. Koorkas are in blackish-brown in colour and are small round-oval in shape.
These are also enriched with calcium. It has a special unique aroma which adds to the taste.
In India, these are found in Konkan belt, Karnataka, Kerala and Tamilnadu.
Koorka – How to peel the skin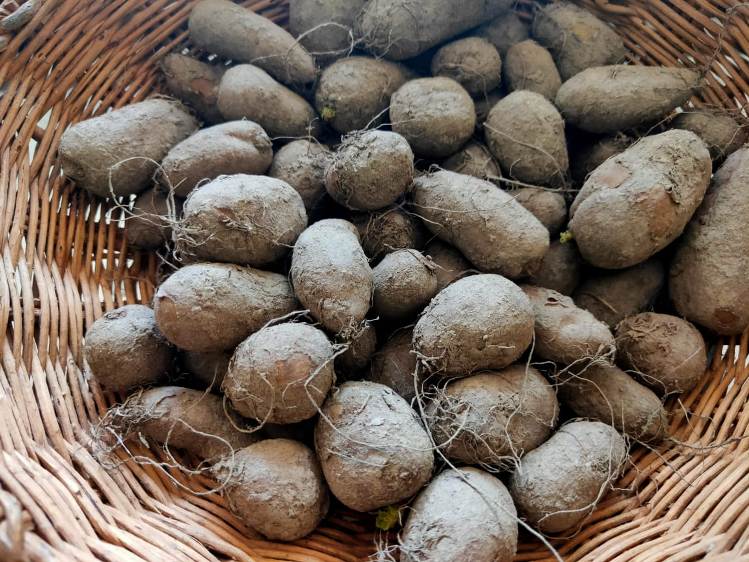 The one tough part of cooking this veggie is its muddy, tough skin! It's an only vegetable, which has a different way of peeling it which I learnt from my grandma. Before you could wash it, put it inside a cloth hold it tight and pat it continues on the kitchen platform for about 15 to 20 times, open and check, you will find the potatoes skin peed off. Later you wash it thoroughly cut and get it ready for cooking
You can also read for Mangalore Southekayi recipe
Opinion: The curious case of the Chinese potato
Koorka with dal curry
Course: Sides
Cuisine: Indian
Difficulty: Medium
Popularly known as Sambrani Gadde, Kook, Koorka, Sirukizhangu is a winter tuber veggie has a unique medicinal aroma when it's being cooked. This is a recipe of Koorka curry with toor dal.
Ingredients
1/2 kg Chinese Potato

1 small coconut

2 Tblsp coriander

1/4 tsp jeera

1/4 tsp mustard

1/2 cup Toor dal

7 red chillies

1 onion

Tamarind 1/4 the size of lemon or a small tomato

Turmeric powder 1/4 tsp
Directions
Wash and peel the skin off the koorka / Chinese potato. Easier method to peel the skin is to take it in cloth and mildly keep beeting it on the floor or kitchen platform about 15 to 20 times. Open it and check, any leftover skin can be scraped off and washed thoroughly. Once cleaned cut it in to medium pieces.
Broil (frying without oil), coriander, red chillies, jeera, mustard.
Add onion, garlic turmeric powder tamarind and coconut to the above-broiled ingredients and grind to a fine paste
In the pressure cooker cook toor dal for 3 whistles, once the steam is released add the Chinese Potato, the ground paste and cook for one more whistle.
Heat oil in a seasoning pan add onions and fry till they turn brown. Add it to the curry.